Schools have returned
About a month ago, schools returned for the 2022/23 academic year. This will expose many teachers and students to viruses brought home from summer holidays and socialising with family and friends. These viruses include the new Omicron variants of COVID-19 that have been circulating in the population, making the infection risk at schools very high.
As reported previously, Attomarker undertook a study with a group of teachers to discover their COVID-19 antibody levels before the start of the school year and we found that 80% of the teachers were not protected against Omicron. Our test provides individuals with quantitative results that can give an indication of their vulnerability to infection. Included in these results are an estimate of 'Immunity Days remaining' and a predicted 'Edge of Immunity' to the nearest month.
Case Study
As part of our study, we tested a member of staff at the school whose Biomark results are shown. Their antibodies had waned significantly since their booster with their number of 'Immunity Days' remaining as low as 0-5 days and their 'Edge of Immunity' predicted as September 2022.
Four days after the return to school in September, the member of staff reported a COVID-19 infection. This correlates with the standard incubation period for Omicron of 3-4 days¹ meaning they were likely exposed to the virus on the first day back to school. This revealing outcome was a surprise to the member of staff:
"Yes, September was a very accurate assessment! It is clear there is going to be a lot more disruption to education provision due to staff absences."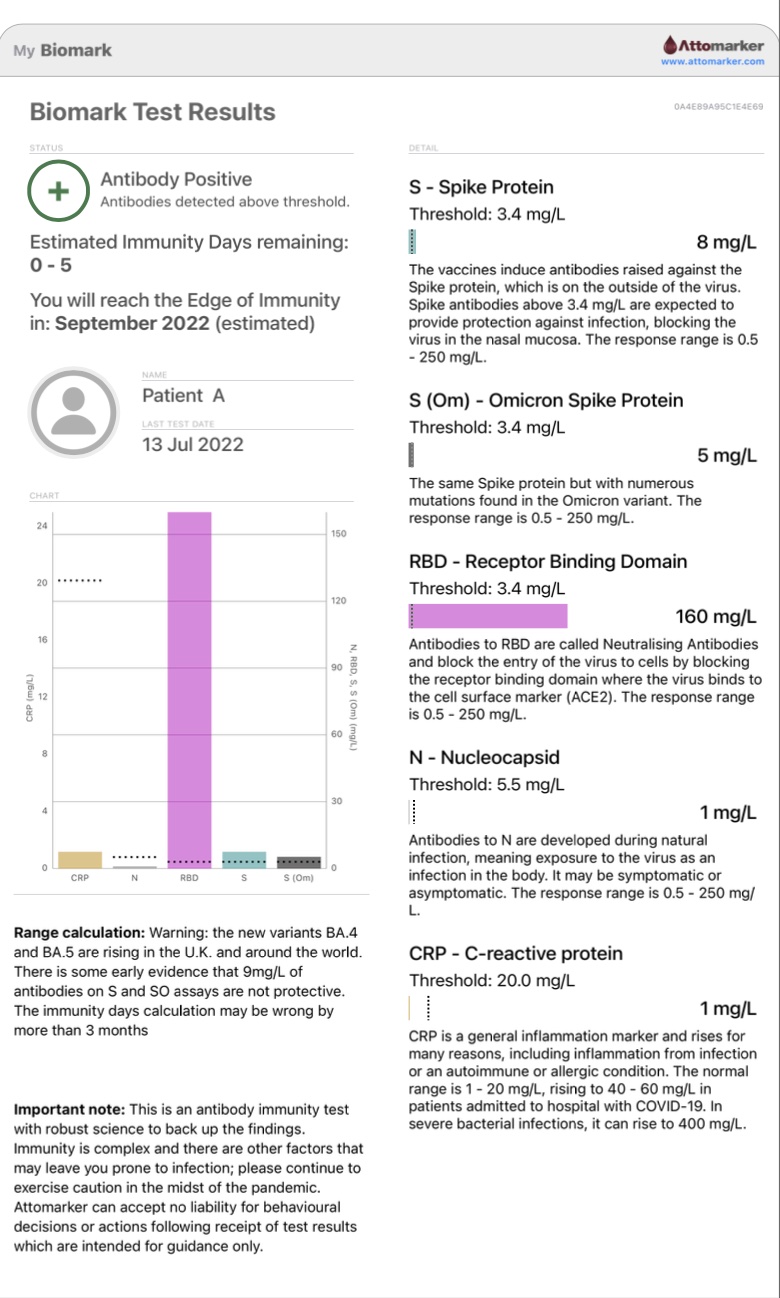 What can you do to reduce teacher absence?
After seeing results such as these, we now offer a Workforce Vulnerability Testing service in which a school can receive a Workforce Immunity Profile that quantitatively assesses the COVID-19 antibody levels of teaching staff to provide an indication of their vulnerability to COVID-19 infection in the coming months.
The advantages for schools to know their Workforce Immunity Profile include: 
Planning for potential teacher absence, with the knowledge of who is more vulnerable
Anticipating learning disruption and financial costs of external supply teaching staff
Adjusting teaching and lesson practises in order to mitigate teacher illness
How are the 'Immunity Days' calculated?
The 'Immunity Days' are calculated from the concentration of antibodies in the blood. Antibodies halve their concentration in the blood every 60 – 200 days, this is known as their half-life. If we take the shortest time at 60 days, then we can calculate how quickly your antibody levels will fall below the immunity threshold of 3.4mg/L. The shortest time is what gives you the predicted 'Edge of Immunity'. 
What are the next steps?
Given that teachers are high-risk it may be argued that they should all be eligible for vaccination regardless of their age group.  However, instead of a poorly targeted vaccination campaign, specifically making vaccines available to those with low levels of immunity may be a better approach.  
We believe that there is a strong argument for a vaccination strategy known as Smart Boosting based on fully quantitative antibody testing using the Attomarker platform.
If you would like to arrange your own personal test, you can book one today.
If you are a school that would like to arrange testing of your staff please contact us for details of our Workplace Immunity Profile service.
References:
Del Águila-Mejía, J., Wallmann, R., Calvo-Montes, J., Rodríguez-Lozano, J., Valle-Madrazo, T., & Aginagalde-Llorente, A. (2022). Secondary Attack Rate, Transmission and Incubation Periods, and Serial Interval of SARS-CoV-2 Omicron Variant, Spain. Emerging Infectious Diseases, 28(6), 1224-1228. https://doi.org/10.3201/eid2806.220158