Antibody levels and antibody immunity vary widely in the population, and we are about to boost people based on age alone. Before COVID, antibody levels were found to correlate with protection in 18 other vaccines [1] and antibody levels following the third boost are well charcterised [2]. So if your antibody levels are still high from your last vaccine and any infection you may have had, why get boosted? If your response from the triple jab was 10 mg/L  for antibodies to both Wuhan and Omicron spike variants, should you delay your jab?
We have proposed a threshold of 3.4 mg/L based on how effective the AstraZeneca and Pfizer vaccines were at preventing infection which predicts the number of antibodies in your nasal mucosa – the front line – to be more than 100 billion above every square millimetre. If 1 billion viral particles arrive, the antibodies still outnumber them. Is this how protection works?
So when to get boosted? We have looked at the response to the first vaccines following triple boosting with any combinations of vaccines and these are shown below.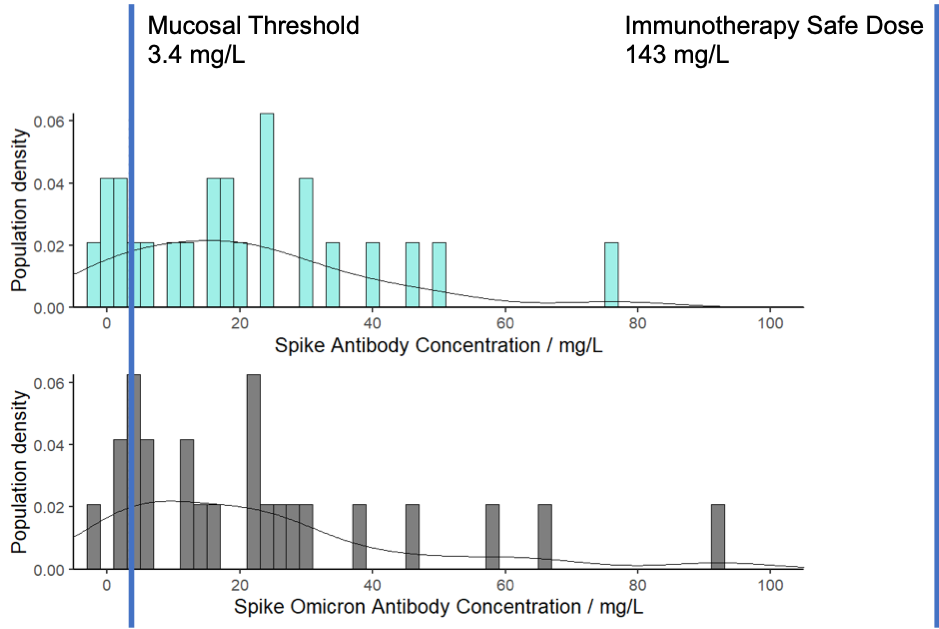 If your antibody levels to omicron BA.1 spike are already around 10 mg/L, waiting to boost could be an option. After 60 days, the antibodies may be around 5 mg/L and this is close to the threshold for the nasal protection. But it must depend on how much virus you get in your nose and how fast you respond.
The pandemic is moving quickly, and the data are evolving. Please contact your doctor for medical advice.
If you want to assess your own personal antibody status, the Attomarker Antibody Immunity Test can provide results in just 7 minutes. Book a test today.
Contact: Professor Andrew Shaw, Andrew.Shaw@attomarker.com
#smartboosting  #raisetheshield
References
Plotkin SA. Correlates of protection induced by vaccination. Clin Vaccine Immunol 2010; 17(7): 1055-65.
James-Pemberton PH, Helliwell MW, Olkhov RV, et al. Vaccine, Booster and Natural Antibody Binding to SARS-CoV-2 Omicron (BA.1) Spike Protein and Vaccine Efficacy. medRxiv 2022: 2022.07.12.22277539.