After a long hot summer COVID has not been at the forefront of people's minds but it certainly hasn't gone away. As we know from the latest vaccine rollout plans, new Omicron variants have been circulating extensively in the population. It is widely accepted that teachers work in an environment where infection risks are very high and, with UK schools returning for a new term next week, we need to continue to consider their safety.
Attomarker recently undertook a study of a group of teachers with our Attomarker COVID-19 Antibody Immunity test. Our test provides individuals with quantitative results that can give an indication of their vulnerability to infection. The results were very revealing. 
We tested a group of 28 primary school teachers, measuring their antibody levels against both the original strain of COVID-19 and the Omicron variant that is currently circulating.  The results are shown below: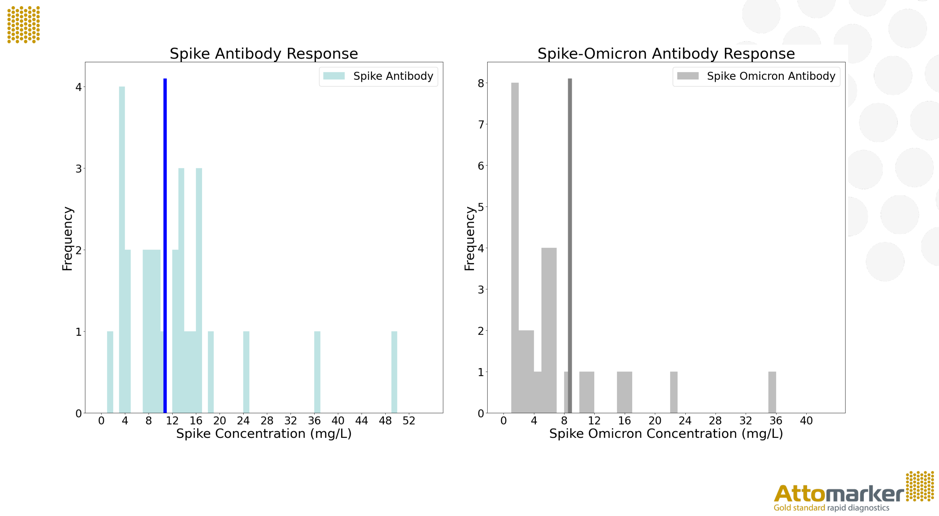 Figure 1: Two graphs showing protection from the vaccine against the original virus (left panel) and protection against the current Omicron variant (right panel). The Y (Frequency) axis shows the number of staff in relation to their Spike antibody Concentration (the X axis). The hypothesised protection threshold lines are shown in bold vertical lines at 11mg/L.
Key Outcomes:
More people are below the threshold for Omicron. The vaccine appears to be providing protection to less than half the staff against the current variant.
50% of these teachers have protection against the "Wuhan" spike protein: the original vaccine target.
Only 21% of these teachers have protection against Omicron BA.1 spike protein: the new variant. 
What does this mean for schools and teachers?
Understanding your antibody levels allows individuals to manage their own risk whilst also allowing schools to plan for potential illness rates in their staff.
Teachers can adjust their behaviour according to their level of immunity, wearing masks or adjusting working practices
Employees above 50 will be eligible for the booster vaccine in the autumn and are more likely to take the vaccine if they can see their own low immunity levels. This will also help employers by reducing their risk of absence
Given that teachers are at high-risk, it may be argued that they should all be eligible for vaccination regardless of their age group.  However, instead of a poorly targeted vaccination campaign, specifically making vaccines available to those with low levels of immunity may be a better approach. 
We believe that there is a strong argument for a vaccination strategy known as Smart Boosting based on fully quantitative antibody testing using the Attomarker platform.
If you would like to arrange your own personal test, you can book one today. 
If you are a school that would like to arrange testing of your staff please contact us for details of our Workplace Immunity Profile service.