"Living with Covid" has been the UK approach since 2022.  Whilst hospitalisations and deaths are much reduced, all employers will only be too aware that staff absences continue at a very high rate leading to business disruption.
As a business you need to minimise that disruption to your customers, and also to meet your responsibility to mitigate risk for your employees at work.
The Attomarker COVID antibody test provides individuals with a quantitative result that can provide an indication of their vulnerability to infection.  When undertaken across a workforce as an Attomarker Workforce Immunity Profile these results can help an employer understand their risks of disruption in the coming months and take actions to mitigate that risk.
Test price
| | |
| --- | --- |
| Quantity | Price |
| 50 or more tests per day | £60 |
| 40 – 50 tests | £65 |
| 30 – 40 tests | £70 |
| Less than 30 tests | £75 |
How do I get a Workplace Immunity Profile?
Contact us now to discuss your specific needs and we will make arrangements with you.
A nurse will make a site visit for a day to collect the blood – each blood draw takes circa 6 minutes.
A consent form will be signed by the employee to allow the blood to be collected; the fully identified data is not shared with Attomarker.
The employee may consent for the fully identified data to be shared with their employer.
The blood will be sent to our Fully Accredited central laboratory partner, Nationwide Pathology (NWP), for testing.
The results are generally returned from NWP within 48 hours.
The results will be sent from NWP directly to the employee.
A Workforce Immunity Profile will be performed and send to the employer and, if needed, to the employees.
The individual results will only be shared with the employee. 
What does a Workplace Immunity Profile look like?
We tested a group of 28 primary school teachers, measuring their antibody levels against both the original strain of COVID-19 and the Omicron variant that is currently circulating.  The results are shown below: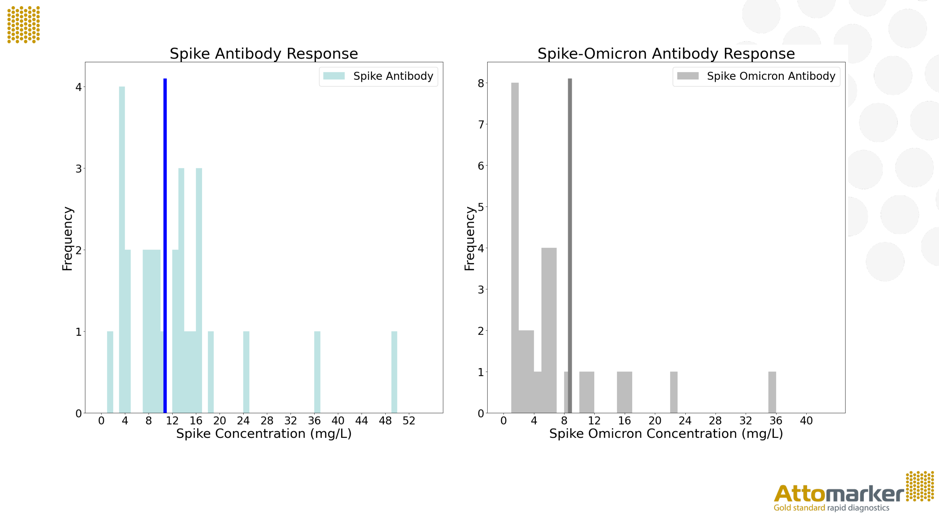 Figure 1: Two graphs showing protection from the vaccine against the original virus (left panel) and protection against the current Omicron variant (right panel). The Y (Frequency) axis shows the number of staff in relation to their Spike antibody Concentration (the X axis).The hypothesised protection threshold lines are shown in bold vertical lines at 11mg/L.
Key Outcomes:
More people are below the threshold for Omicron 
50% of teachers have protection against the Wuhan strain (the original form of COVID)
Only 21% of teachers have protection against the Omicron BA.1 variant
Ready to assess the immunity of your workforce?
Contact us now to discuss your specific needs and we will make arrangements with you.