Attomarker has partnered with Integra Healthcare in the Cayman Islands, where only 31% of the population has received a booster
dose. The medical team introduced the test to the community with a VIP launch and an informative in-depth article in the Cayman Compass, accompanied by extensive marketing through social media and online platforms.
Cayman Islands and UK antibody immunity profile
The figure on the left provides comparative test results between the UK and the Cayman Islands. As the number of patients tested grows, this will prove immensely valuable for public health authorities. Initial indications are that case numbers will increase from this point and there will be a spike of cases over the northern hemisphere summer of 2022 as antibody immunity declines. Importantly, it illustrates the fact that the immunity spectrums of different populations can vary, as vaccination programmes haven't been standardised worldwide.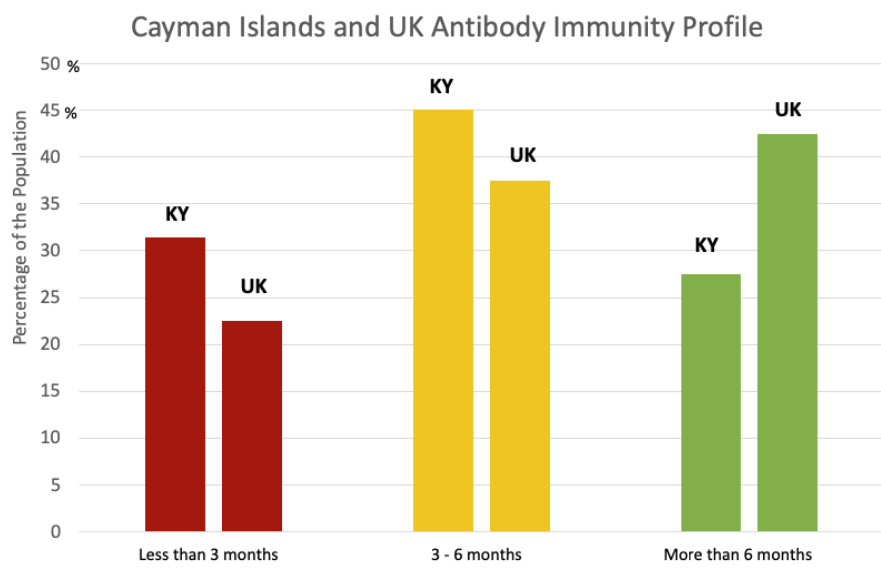 This technology can be used to optimise the timing of vaccine delivery, maximise population protection and conserve and better share vaccine resources worldwide. The Antibody Immunity Test has proven to be popular amongst individuals and profitable for the Integra clinic, which has been fully booked since launch.
Speaking to policy makers on the Cayman Islands, Director of Integra, Andrew Vincent, said:
"This is a technology that allows you to rapidly assess the degree of immunity in your workforce, allowing you to better protect more vulnerable or less protected workers, and deploy people, for instance, those facing the public or tourists, with much greater confidence."